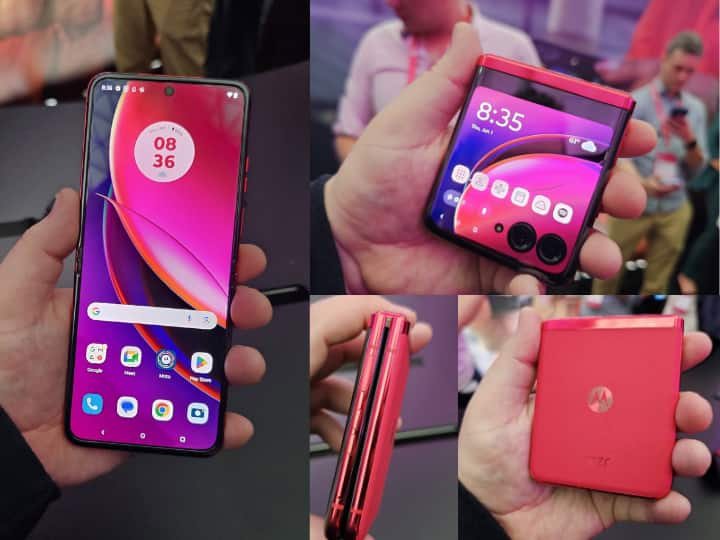 Tomorrow the world's thinnest and biggest cover display flip phone will come in the market, the price will be like this
Motorola Razr 40 Series: Tomorrow i.e. on July 3, the world's thinnest and biggest cover display smartphone will be launched. Motorola will launch 2 new smartphones tomorrow under the Motorola Razr 40 series. You will be able to watch the launch event of the smartphone through the company's YouTube channel. Before the launch, Amazon had leaked the price of the smartphone. Motorola's new phone will be available at an initial price of Rs 59,999. Under this series, the company will launch 2 smartphones which include Motorola Razr 40 and Motorola Razr 40 Ulta.
Specs
Talking about the specification, Motorola Razr 40 will get Snapdragon 7 Gen 1 SoC, 8GB RAM, 256GB storage, 6.9 inch FHD+ AMOLED display and 1.9 inch cover display. The mobile phone will come with a dual camera setup which will have a 64MP primary camera and a 13MP ultrawide sensor. In the front, a 32MP camera will be available on both the phones. Talk about Motorola Razr 40 Ultra, this phone will get Snapdragon 8+ Gen 1 chipset, 3.6 inch pOLED cover display, 6.9 inch FHD+ AMOLED main display with refresh rate of 165hz and dual camera setup. In this you will get two cameras of 12+13MP.
Other details related to the smartphone will be revealed by the company tomorrow. To know all the details first, stay tuned to the company's YouTube channel. The phone will be launched at 5 pm.
📳 Motorola Razr 40 price in India will be around 💰 ₹60,000.

📱 Motorola Razr 40 Ultra price in India will be 💲around ₹80,000.#moto #motorola #motorolaRazr40Ultra pic.twitter.com/iKuJ7hxrWD

— Abhishek Yadav (@yabhishekhd) 29 June 2023

This phone will be launched on July 4
The next day i.e. on July 4, IQ will launch its IQOO Neo 7 Pro smartphone. An independent gaming chip will be available in this phone which will make the gaming experience even better. A 5000 mAh battery can be found in the phone with 120 W fast charging. The price of the smartphone has been known before launch and you will be able to buy it at a price of Rs 33,999.
Read also:
Twitter: Users using the app for blue tick and free will now be able to read so many tweets every day, this will happen when the limit is over