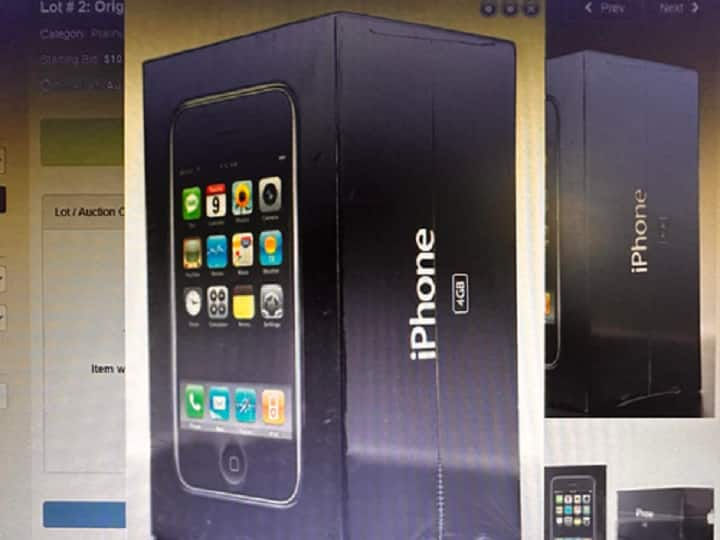 The first iPhone was auctioned for 400 times more than the real price, know how much it was sold
Tech giant Apple's latest iPhone 14 is in the market today. But you will be surprised to know that the first variant of iPhone (First Apple 4GB iPhone) in America has been auctioned at a price 400 times more than its real price. The interesting thing is that this iPhone was sealed pack till date. In Indian currency, this iPhone was auctioned for more than Rs 1.5 crore. The 4GB model, which originally retailed for $599, was expected to fetch in the region of $50,000-$100,000 from the lot – but it broke all previous records and sold for $190,372.80, reports IANS.
The iPhone 7 lot received a total of 28 bids.
The original iPhone 7 lot, run by LCG Auctions, received a total of 28 bids. The BBC reported that LCG Auctions described it as "a popular high-end and red-hot collectible". It added that two second factory-sealed, first variant iPhones were sold for record prices last year. For the first time, these iPhones were released by the late Apple CEO Steve Jobs in the year 2007. But in view of sluggish sales, Apple decided to discontinue this 4GB model only two months after its launch.
price then
Steve Jobs unveiled the Apple iPhone (First 4GB iPhone) at the Macworld 2007 event. At that time this device was very expensive. Talking about the price, the base 4GB model was priced at $500, the 8GB one was priced at $600. Most customers then bought the 8GB model, as the storage was doubled for only $100 more.
The 4GB model is considered the Holy Grail
The original 4GB model (First Apple 4GB iPhone) is considered the Holy Grail among iPhone collectors. According to LCG Auctions, the 4GB model debuted on June 29, 2007, along with the 8GB model, due to slow sales. Apple decided to discontinue the 4GB model on September 5, 2007.