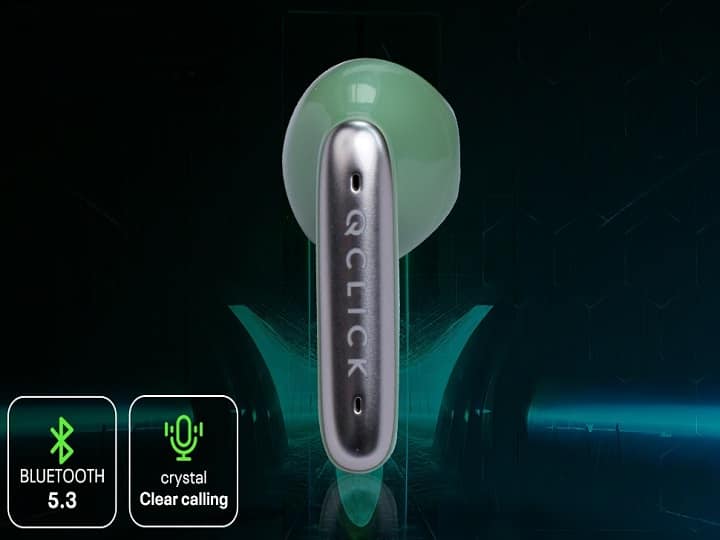 New earbuds Q Click Blues 1 came in less than Rs 1500, know the price features here, they will compete
If the budget for earbuds is within Rs 1500, then there is a good buying opportunity for you. A new earbuds Q Click Blues 1 has come in the market. It is available for Rs.1299 on Amazon and Flipkart. This product of Q Click India company will compete with other earbuds including truke BTG NEO, boAt Airdopes 170 in this budget. The Q Klik Blues 1 are designed with a unique audio experience in mind. The company says that every beat and note in this device has been presented with utmost accuracy and clarity. The company is also offering 401 days manufacturing warranty on this product.
Specifications of Q Click Blues 1
Q Click Blues 1 (Q Click Blues 1) earbuds have Bluetooth V5.3. Also it has powerful 13mm bass pro driver which provides an immersive listening experience to music, podcasts. It is an IPX5 rated device, which means it is splash and sweat resistant. It has Google Fast Pair and Siri connectivity features, which connect Android or Apple devices quickly.
You can easily control your music playback, answer calls by activating Siri connectivity on your iPhone or other Apple device. All this can be done with a simple voice command.
User friendly digital display makes it different
The Q Click Bluez 1 on-the-go charging case sets itself apart with a convenient and user-friendly digital display integrated into it. This feature provides battery status updates in real time, so you can easily keep track of the remaining powerback up of your earbuds. With the digital display, you no longer have to rely on guesswork or estimation when it comes to battery life.
read this also
Big savings Dhamaal sale on Flipkart from today, great opportunity to shop at up to 80 percent discount