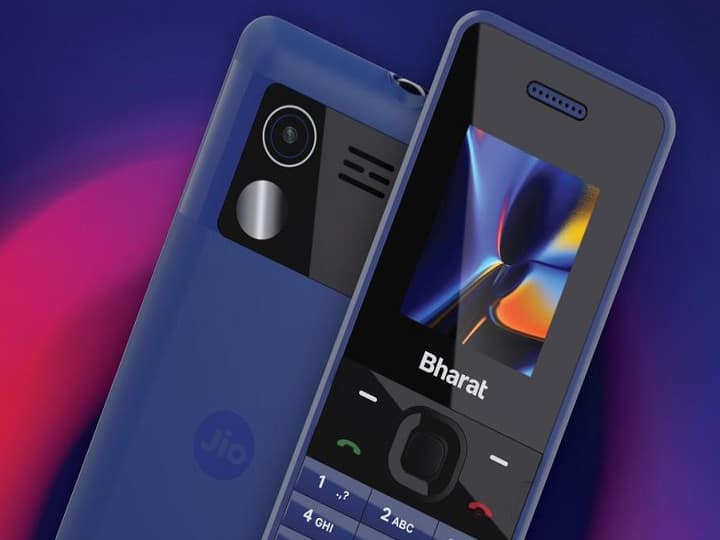 Jio introduced the cheapest 4G phone, know the recharge plan, you will get this much
Reliance Jio has launched the 4G phone Jio Bharat V2 4G. Jio Bharat V2 will be available at very affordable prices. Its price has been kept at Rs 999. The company is eyeing around 250 million 2G customers in India. These customers are currently associated with companies like Airtel and Vodafone-Idea. Let us tell you that Reliance Jio operates only 4G and 5G networks. Reliance Jio claims that on the basis of 'Jio Bharat V2', the company will add more than 10 crore customers.
Jio Bharat V2 lowest price
According to R, the price of Jio Bharat V2 is the lowest among all the phones available that work on the Internet. The monthly plan of 'Jio Bharat V2' available at a price of Rs.999 is also the cheapest. Customers will have to pay Rs 123 for the plan with a validity of 28 days. Voice calls of other operators and 2GB monthly plans start from Rs.179 only. Apart from this, the company will give 14 GB 4G data to the customers of 'Jio Bharat V2' i.e. half GB per day, which is seven times more than the competitor's 2 GB data. There is also an annual plan on Jio Bharat V2, for which the customer will have to pay Rs 1,234.
Jio Bharat platform also launched
The company has also launched 'Jio Bharat' platform to bring 250 million 2G customers to 4G. Other companies will also be able to use this platform to make 4G phones. Carbon has also started using it. Experts are expecting that 4G Bharat series mobiles will soon replace 2G feature phones. To woo 2G customers, the company also brought JioPhone in 2018. JioPhone continues to be the choice of over 13 crore customers today. The company has announced to start the beta trial of 'Jio Bharat V2' from 7th July.
Jio cinema subscription will be available
The company intends to take Jio Bharat V2 to 6500 tehsils. Made in the country and weighs only 71 grams, 'Jio Bharat V2' works on 4G, it has features like HD voice calling, FM radio, 128 GB SD memory card support. The mobile has 4.5 cm TFT screen, 0.3 megapixel camera, 1000 mAh battery, 3.5 mm headphone jack, powerful loudspeaker and torch. Jio Bharat V2 mobile customers will also get access to 80 million songs from Jio-Saavn along with subscription to Jio Cinema. Customers will also be able to do transactions on UPI through Jio-Pay. This mobile can work in 22 Indian languages.
read this also
Realme Narjo 60 Series 5G smartphone with 1TB internal memory will be launched, such customers will enjoy