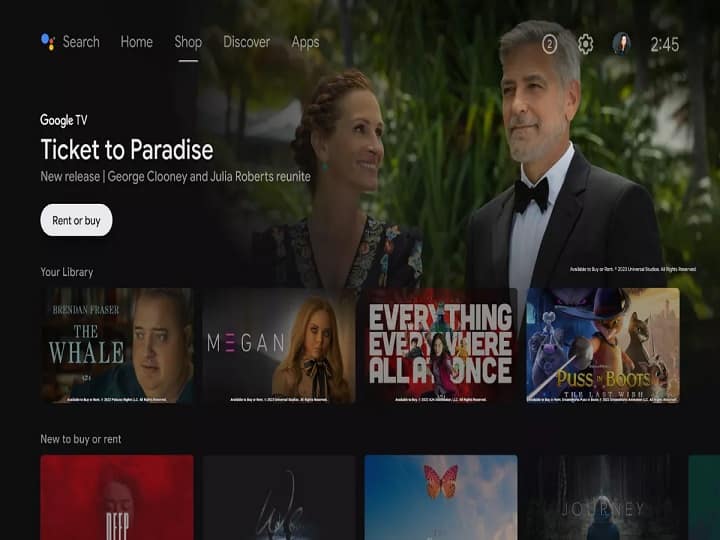 Google introduced Shop tab on Android TV, will be released soon, users will get a lot of benefits
Google has introduced a new Shop tab on Android TV devices. The Shop tab allows users to buy or rent movies and make purchases directly on their Android TV, the tech giant said in a support page on Wednesday. Whether you're looking for a new and popular movie that's not yet available on other streaming services or you're just looking to buy a movie without a subscription, the Shop tab makes it easy.
Will roll out worldwide in a few weeks
According to the news, the new Shop tab is rolling out to Android TV devices in the US and will roll out globally in a few weeks. The company said that in addition to finding new movies to buy or rent, you can also access your purchases from the new library in the Google shop tab.
All purchases will be available in your library
All purchases made with a user's Google Account will be available in your library. This includes purchases made from YouTube, other Google TV and Android TV devices, and the Google TV mobile app. Go to the Shop tab to start watching right away, or download your purchased content through the Google TV mobile app on your phone or tablet to watch offline.
Transition is visible in the content platform
Android TV is going through an interesting time as it looks to transition into Google's next major content platform. Last month, it got over 800 free channels through a new live tab. People can watch everything from major outlets around the world to programming from new channels in over 10 different languages. In future, the tech giant is planning to upgrade the software with the launch of Android TV 14. It appears that Android TV (Google shop tab) will get a customizable shortcut feature that can be linked to a specific app or HDMI port on the display. Selecting the shortcut activates the app or device connected to that port.
read this also
False emergency call from Android SOS feature! The police here accused