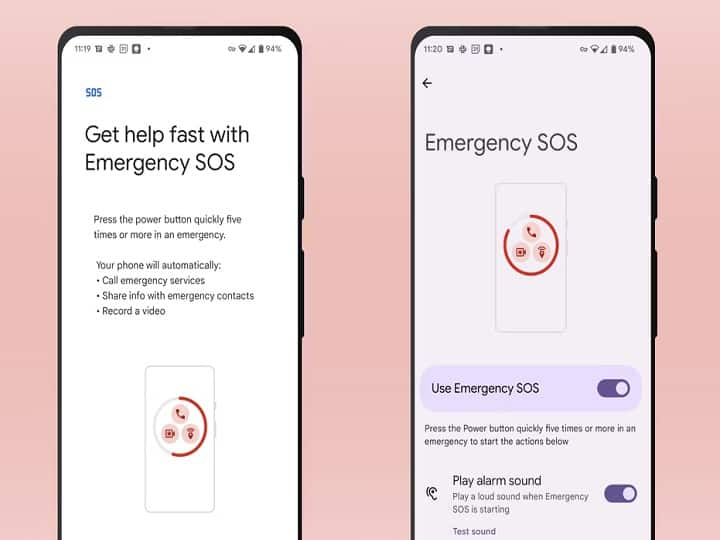 False emergency call from Android SOS feature! The police here accused
An Android feature designed to help smartphone users quickly contact emergency services has become a problem for first responders in the UK. Police forces across the UK have reported false emergencies to 999 switchboards (the UK's equivalent of 911) in recent weeks, mainly due to Android phones, reports The Verge, citing a BBC report. For this, the Emergency SOS (Android SOS Feature) feature has been considered.
Update released between October 2022 and February 2023
Law enforcement in Scotland, and the English counties of Wiltshire, Devon, Cornwall and Gloucestershire, have received a large number of fake emergency calls since Android updates released between October 2022 and February 2023. Since the introduction of the emergency SOS calling feature in Android (Android SOS) phones, it has been reported to receive a higher number of silent or abandoned calls. The BBC reports that it can take around 20 minutes to deal with each mistaken call as operators ensure it is not made by someone who is otherwise unable to verbalize an emergency.
What is Android SOS feature
The SOS feature allows Android users to quickly contact emergency services by pressing their device's power button multiple times. Because it is easy to use, there is a flood of false emergencies. This feature was introduced in the year 2021 with the release of Android 12 on Google Pixel phones. Emergency SOS is designed to make it easy to call for help in situations where the user is otherwise or physically unable to dial.
Google told who is responsible for this
Google has responded to the situation by informing the BBC that phone manufacturers are responsible for offering the Emergency SOS feature and managing how it will work on their respective devices. A Google spokesperson told the BBC that to help these manufacturers stop inadvertent emergency calls on their devices, Android is providing them with additional guidance and resources. We hope that device manufacturers will release updates to their users to address this issue soon. Users who are constantly facing this problem should turn off Emergency SOS for the next few days. To disable it, go to device settings and find Emergency SoS. From there you switch the toggle to OFF.
read this also
Worried about the Smartphone storage being full! How to delete photos and videos of WhatsApp, handset will run