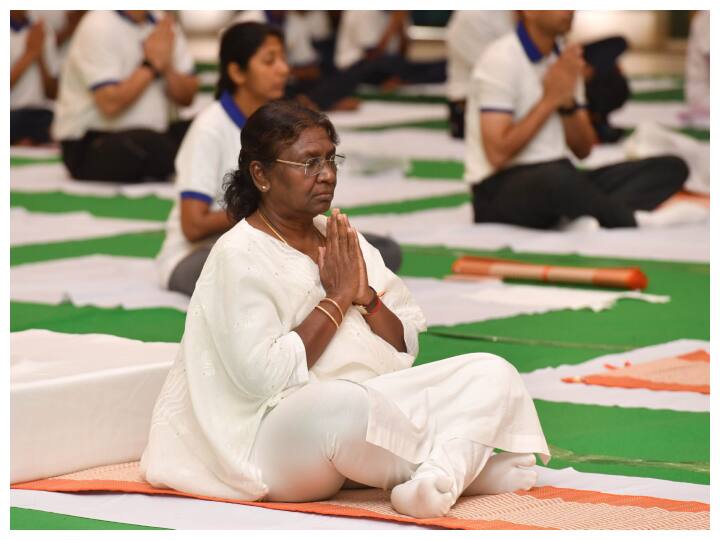 'Yoga is India's great gift to the world'- President Murmu congratulated on International Yoga Day
International Yoga Day: International Yoga Day is being celebrated all over the world. In India too, different programs are being organized at various places, in which everyone from politicians to celebrities are participating. All the celebrities are wishing the countrymen on Yoga Day on Twitter and they are being inspired by posting their photos. In this sequence, President Draupadi Murmu also celebrated Yoga Day and did yoga with the people. Posting his pictures on Twitter, the President wrote that Yoga is like a great gift to the whole world.
President appeals to people to do yoga
Regarding Yoga Day, President Draupadi Murmu wrote on Twitter, "Congratulations to everyone on International Yoga Day! Yoga is one of the great achievements of our civilization, and a great gift of India to the whole world. Establishes a balance between. Yoga is a holistic approach towards life. Yoga makes all of us more capable to face the growing challenges in our lives. On this day, I urge all I urge you to adopt and experience its transformative power."
Prime Minister Modi addressed
On the occasion of International Yoga Day, Prime Minister Narendra Modi also addressed the nation through video conferencing. PM Modi is on a visit to America, from where he shared many information about yoga to the people in India. PM Modi said that we can achieve everything with yoga. Yoga worked to bring together more than 180 countries. PM Modi told that he will participate in the yoga program organized in the UN on the evening of 21 June. Apart from the PM, all the ministers of his government in India participated in different programs organized on Yoga Day.
read this also: Elon Musk replied on Jack Dorsey's allegations regarding Modi government, said- 'Not much option'