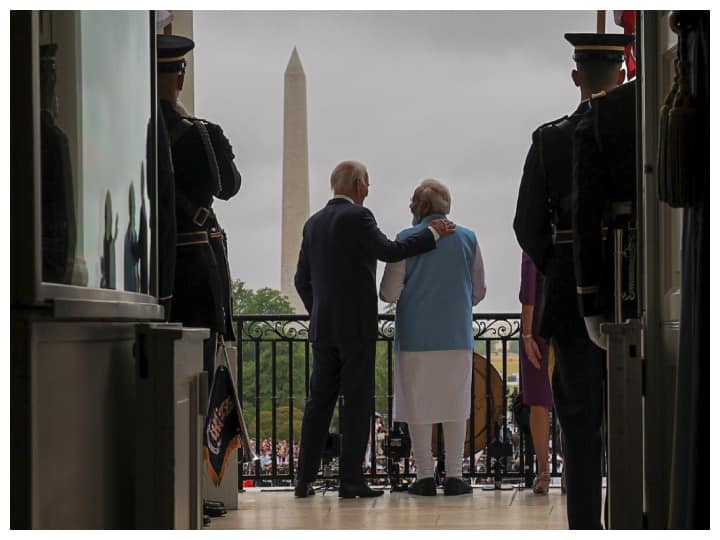 When Biden put his hand on the shoulder, PM Modi said – will work together to improve the planet
PM Modi US visit: Prime Minister Narendra Modi is on his three-day US visit, where he participated in various programs. PM Modi participated in the Yoga Day program at the UN and then met President Joe Biden, after which Biden hosted a state dinner for PM Modi. During this, both the leaders looked very comfortable with each other. Now PM Modi has shared some of his pictures with Biden on social media, in which both are seen together. In a picture, Biden can also be seen keeping his hand on PM Modi's shoulder.
PM Modi tweeted
Sharing these pictures, Prime Minister Narendra Modi wrote on Twitter, "Today's conversation with President Joe Biden was comprehensive and meaningful. India will continue to work with the United States in various fields to improve our planet."
today's conversation @POTUS @Joe Biden were extensive and productive. India will continue to work with the United States in various fields to improve our planet. pic.twitter.com/Yi2GEST1YX

Narendra Modi (@narendramodi) 22 June 2023
Said this about both the countries
After meeting with Biden, Prime Minister Narendra Modi said that there is limitless potential for alliance between India and America and as the world's two largest democracies, both countries can contribute to global peace, stability and prosperity. Modi said that a new chapter has been added in India-US relations and overall global strategic partnership.
Regarding the announcement of India's decision to join the Artemis Treaty, PM Modi said that we have taken a new step forward in space cooperation. The Prime Minister said that we discussed many regional and global issues with President Biden. He said that India-US trade and investment partnership is important not only for both the countries but also for the global economy and today America is India's largest trading partner.
Biden told the relationship strong
During this, US President Joe Biden said that this partnership with India is one of the most important partnerships in the world, which is stronger, closer and more dynamic than at any other time in history. In a joint press conference with Biden, the Prime Minister said, "Today holds a special significance in the history of relations between India and America." A new chapter has been added to our overall global strategic alliance with today's discussion and important decisions.
read this also – PM Modi US Visit: 'If I were the President…', Barack Obama said about minorities in India