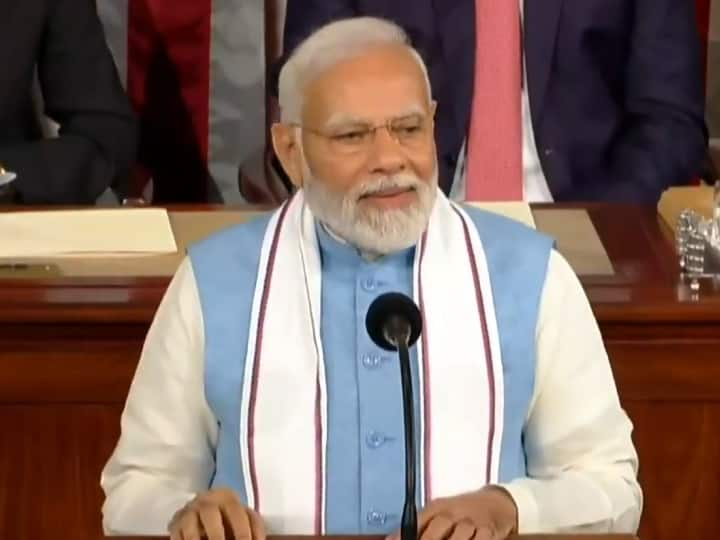 What did PM Modi say in the US Parliament on everything from economy to democracy and US-India relations?
PM Modi on economy: Prime Minister Narendra Modi, who went on a tour of America, addressed the US Congress (US Parliament) on Friday (June 23). During this, he said that when I came here for the first time after becoming the Prime Minister, India was the 10th largest economy. Today India is the fifth largest economy.
PM Modi said, "Now India will soon become the third largest economy. We are growing fast. When India progresses, the whole world progresses.
PM Modi's statement on democracy
He said, "Democracy is one of our sacred and shared values. One thing has been clear throughout history that democracy is a spirit that supports equality and dignity.
PM Modi said, "Democracy is an idea that welcomes debate and discussion. Democracy is a culture that gives wings to thought and expression. India has been blessed with such values ​​since ancient times. India is the mother of democracy in the development of democratic spirit.
Russia-Ukraine War
Prime Minister Narendra Modi said about the Russia-Ukraine war that this is not the time for war. This is the time for dialogue and diplomacy. It is not the time to shed blood, it is the time to protect humanity.
PM Modi's statement on terrorism
Pointing towards Pakistan and China, Prime Minister Narendra Modi said that two decades after 9/11 and a decade after 26/11 in Mumbai, fundamentalism and terrorism still remain a serious threat to the whole world.
He said, "Terrorism is the enemy of humanity and there can be no ifs and buts in dealing with it. We have to control all such forces that sponsor and export terror.
'Everyone's development, everyone's faith, everyone's effort'
PM Modi said, "Our approach is everyone's support, everyone's development, everyone's faith, everyone's effort." We are focusing on infrastructure development. We have provided nearly 40 million homes to provide shelter to over 150 million people, which is almost 6 times the population of Australia. We run a national health insurance program that ensures free medical treatment for about 500 million people.
PM Modi said, "We have more than 2500 political parties. About 20 different parties rule in different states of India. We have 22 official languages ​​and thousands of dialects, yet we speak with one voice.
When asked about minorities, PM Modi said – there is no discrimination on the basis of religion and caste in India's democracy