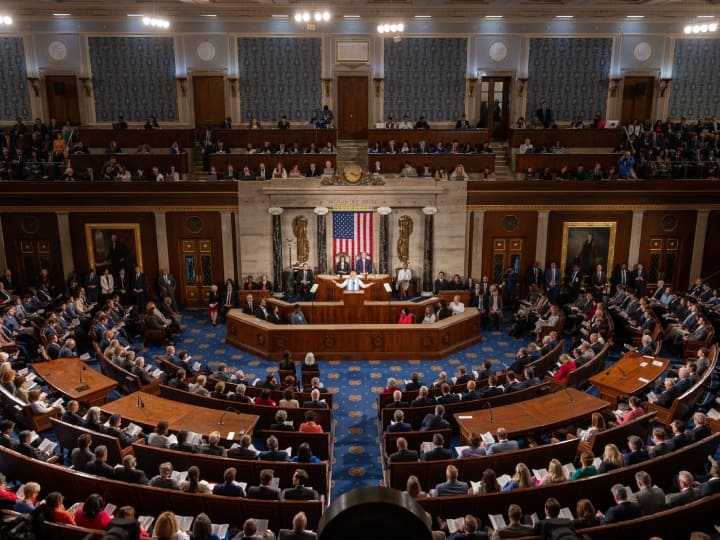 What did PM Modi say in praise of Kamala Harris that applause started ringing
PM Modi US Congress speech: PM Modi, who went on a three-day state visit to America, addressed the joint session of the US Parliament on the second day of his visit. During this, he talked about the strengthening relations between the two countries. During this, when he mentioned US Vice President Kamala Harris, everyone laughed.
PM Modi said, America was built with the idea that all the citizens living here would get the right to equality, and you have done it. The PM said, there are lakhs of people living in the US whose roots are linked to India and some of them are proudly sitting as representatives in this Parliament.
Pointing towards Kamala Harris, PM Modi, one of them is sitting behind me. After saying this, all the MPs there laughed happily. The PM said, I have been told that the Samosa Caucus here is now a part of this Parliament. He said, therefore I can say that there is no dearth of colors of diversity as well as Indianness in this House.
Speaker sir! You're working too hard'
Addressing the joint session of the US Congress, PM Modi said, Mr. Speaker, the beauty of democracy lies in the dialogue that takes place in it, in the debates that take place in it, and being an outspoken democracy, I can understand your position. You are doing very hard work. Because what you are doing takes a lot of energy.
PM Modi said, since the time I came here in the past, there have been many big changes in the field of artificial intelligence in technology, but there has been a further change in AI. It is about the relations between America and India. During this, PM Modi also remembered Martin Luther King Jr. and President Mahatma Gandhi in the context of relations between the two countries.
Patna Rally: 'Modi will walk in 2024', facing Patna rally told the plan, said- on 450 seats…