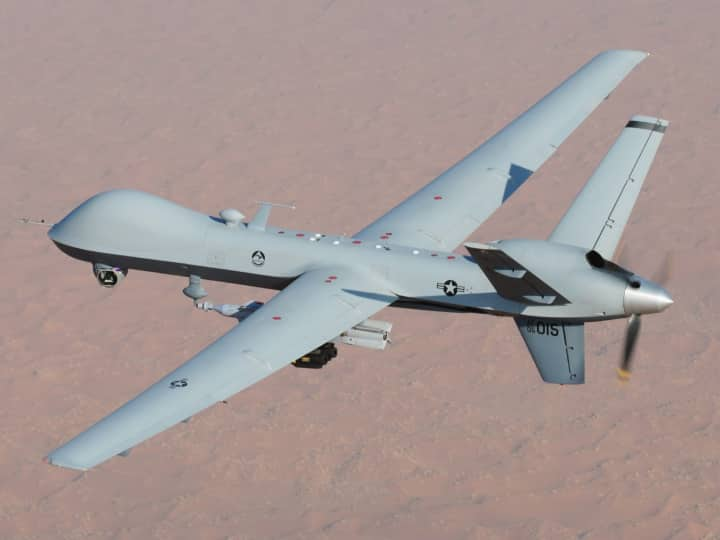 PM Modi-Joe Biden will do mega defense drone deal, know the special features of MQ-9B Reaper
MQ-9B Reaper Armed Drone Deal: Prime Minister Narendra Modi and US President Joe Biden may announce a series of defense and commerce deals on Thursday (June 22) to improve military and economic ties between the two countries.
PM Modi is on his first state visit to America. On Thursday, he will make a state visit to the White House. During this, there is a possibility of announcing agreements. The White House said in a statement that PM Modi and Biden will announce the deal for the MQ-9B Predator (Reaper) drone of the General Atomics Company. India is buying 30 such drones from this American company.
India's monitoring capacity will increase along the border with China
It is believed that having the MQ 9B Reaper with India will increase surveillance capabilities along the Indian Ocean and the border with China. About a week before PM Modi's visit to America (on June 15), India's Defense Acquisition Council (DAC) passed the proposal to buy this drone from General Atomics. The proposal was cleared in the DAC meeting chaired by Defense Minister Rajnath Singh.
There is a deal of three billion dollars
According to the news agency PTI, an amount of about three billion dollars will be spent to buy 30 MQ-9B Reaper drones from General Atomics. There are two variants of MQ 9B drone, which include Sky Guardian and Sea Guardian.
The Sea Guardian variant will be inducted into the fleet of all the three armed forces of India. Be it maritime surveillance or anti-submarine warfare, this drone is fit for many roles. Recently, sources had informed that out of 30 drones to be purchased from the American company, Navy can get 14 and Air Force and Army can get 8-8 drones.
Some features of the MQ-9B Predator Reaper drone
The MQ-9 Reaper drone can carry 500 percent more payload and has nine times the horsepower of the earlier MQ-1 Predator. Its capacity has been told more in many ways, including continuous monitoring.
According to General Atomics Aeronautical Systems, the MQ-9 Reaper has an endurance of more than 27 hours. Its speed is 240 KTS. It can fly up to 50,000 feet and has a payload capacity of 3,850 pounds (1,746 kg), including 3,000 pounds (1,361 kg) of external stores.
Explain that in 2020, the Indian Navy had taken two MQ-9B Sea Guardian drones on lease for a period of one year from General Atomics for surveillance in the Indian Ocean. Later the lease period was extended.
Also read- PM Modi US Visit: America intends to open consulate in two cities of India, know what Biden administration said