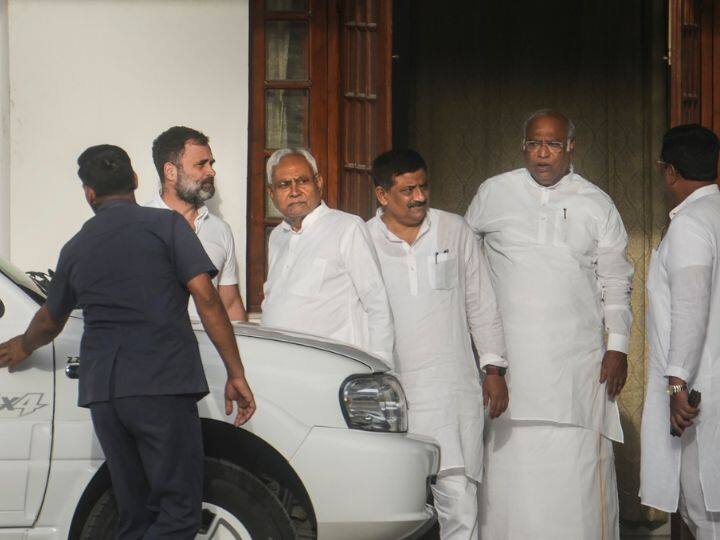 Opposition gathering in Patna, know which leaders will be involved?
Opposition meeting in Patna: With regard to the mega meeting of the opposition to be held in Bihar's capital Patna on June 23, the process of leaders of opposition parties reaching Patna has already started. Former Jammu and Kashmir Chief Minister Mehbooba Mufti has reached for the meeting to be held on Friday (June 23).
Apart from this, the process of reaching Patna of many leaders is going to continue even today. West Bengal CM Mamata Banerjee has also reached Patna for the meeting. Delhi CM Arvind Kejriwal, Punjab CM Bhagwant Mann will also reach Patna today itself. Let us tell you that which big leaders of the opposition are going to participate in this general meeting of the opposition.
West Bengal Chief Minister Mamata Banerjee is hopeful that the opposition meeting in Patna on Friday will be constructive. He said, "The BJP will have to be defeated in the next Lok Sabha elections to save the country from 'calamity'."
Full list of leaders attending the meeting
Congress leader, Rahul Gandhi

Congress National President Mallikarjun Kharge

NCP Chief, Sharad Pawar

TMC Chief, Mamata Banerjee

AAP chief, Arvind Kejriwal

DMK chief, MK Stalin

Jharkhand Mukti Morcha chief Hemant Soren

Samajwadi Party chief, Akhilesh Yadav

Shiv Sena, Uddhav Thackeray

PDP Chief, Mehbooba Mufti

National Conference chief, Omar Abdullah

CPI General Secretary, D Raja

CPM chief, Sitaram Yechury

CPI Male (CPI(ML) General Secretary, Dipankar Bhattacharya
Kejriwal will raise the issue of ordinance in the meeting
At the same time, sources told ABP News that Delhi Chief Minister and Aam Aadmi Party (AAP) national convenor Arvind Kejriwal will raise the issue of the Centre's ordinance in the meeting. If the Congress does not announce its support to Kejriwal against the ordinance, then he can walk out of the meeting.

TMC statement regarding opposition meeting
TMC spokesperson Riju Dutta said, "Party chief and chief minister Mamata Banerjee and general secretary Abhishek Banerjee are going to the opposition meeting for the sake of the country and to save democracy. Keeping the national interest in mind, we have to eliminate the BJP in the elections." "
How are the preparations for the meeting in Patna
Patna is now fully prepared for the opposition meeting called by Bihar Chief Minister Nitish Kumar. Present Chief Ministers and former Chief Ministers of the states will stay in the guest house and the meeting will also be held in this guest house. Arrangements have been made in many hotels of Patna for the people coming with him. place to place Posters of opposition leaders have been put up.
read this also:
Opposition Meeting: 'For the interest of the country…' What did TMC say before the opposition meeting in Patna?