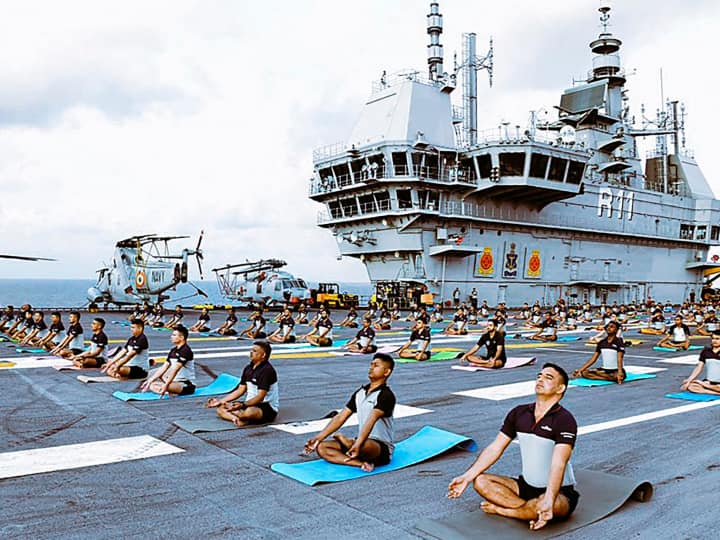 International Yoga Day 2023:BJP's mega plan on Yoga Day, PM Modi in UN and other leaders will attend these places
International Yoga Day 2023: BJP has prepared a mega plan for International Yoga Day celebrated every year on 21st June. On the one hand, Prime Minister Narendra Modi will lead the Yoga Day celebrations at the United Nations Headquarters in New York, America, while on the other hand, from Home Minister and Defense Minister other leaders in the country, will participate in programs at various places.
PM Modi's state visit to America is starting on the 21st of June. He will stay in America till June 23 and after that, he will pay a state visit to Egypt on June 24 and 25.
Home Minister and Defense Minister will do yoga at these places
According to the information, Union Home Minister Amit Shah will participate in the Yoga Day celebrations in the national capital Delhi itself, while Defense Minister Rajnath Singh will participate in the yoga program on Indian Navy's aircraft carrier INS Vikrant in Kochi.
Ayush Minister will be involved in the Yoga Day program in Goa
On Yoga Day, the Union Ministry of AYUSH will organize a big function in Goa. Union AYUSH Minister Sarbananda Sonowal himself will attend Panaji in Goa. Apart from this, Vice President Jagdeep Dhankhar will attend the program of Yoga Day in Jabalpur, Madhya Pradesh.
Instructions to all BJP MPs and MLAs to organize programs
Let us tell you that BJP National President JP Nadda has instructed all the MPs and MLAs to organize big events related to Yoga Day in their respective areas. About 250 big leaders of the BJP will be sent to participate in the programs of Yoga Day.
Significantly, in December 2014, the United Nations General Assembly passed a resolution declaring June 21 as International Yoga Day. Since then every year this day is celebrated with great enthusiasm all over the world including India. Many small and big organizations in the country and the world also celebrate Yoga Day with pomp at their level. The participation of the general public is also widely seen in the programs.
Also read-NCERT Books Row: Educationists objected to the changes in NCERT books, so what did the UGC chief say?