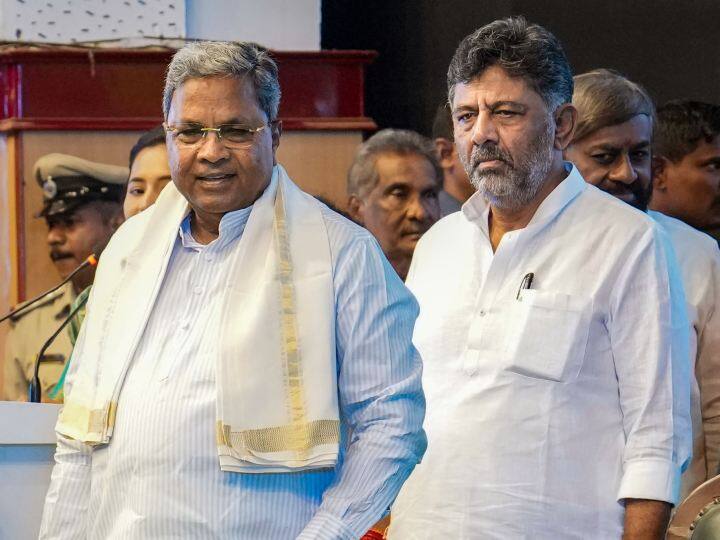 All Karnataka ministers including CM Siddaramaiah and DK Shivakumar were called to Delhi
Congress President Mallikarjun Kharge: A new government has been formed in Karnataka on 20 May 2023 under the leadership of Siddaramaiah. In less than a month after the formation of the government, all the ministers of Karnataka have been summoned to Delhi. State Deputy CM DK Shivakumar told on Friday (June 16) that Congress President Mallikarjun Kharge has called all the ministers of the state to Delhi on June 21.
According to news agency PTI, Deputy CM DK Shivakumar has said that Karnataka government ministers will also meet different central government ministers during their stay in Delhi. During this, all the ministers can discuss the projects related to Karnataka. Shivakumar did not deny that Chief Minister Siddaramaiah and he himself may meet Prime Minister Narendra Modi.
CM Siddaramaiah sought an appointment with the Prime Minister.
According to the agency, there are reports that Siddaramaiah has sought an appointment with the Prime Minister. When asked if Chief Minister Siddaramaiah would meet Prime Minister Modi during his stay in Delhi, Shivakumar did not give a direct answer and only said, "We are all in a federal structure. We all have to work together."
Meeting with Rahul Gandhi and Kharge
Karnataka Pradesh Congress Committee President Shivakumar said, "On June 21, our party president called all of us ministers to Delhi as some of us have not met Rahul Gandhi and Kharge."
Earlier on May 13, the Congress had registered a resounding victory in the Karnataka results, after which the new Congress government was formed in Karnataka on May 20. Senior Congress leader Siddaramaiah took oath as the Chief Minister of Karnataka and DK Shivakumar has been made the Deputy CM of the state. Apart from this, 8 ministers have also taken oaths.
Read this also:This actress played the character of Ravana's sister Shurpanakha in Adipurush, very glamorous in real life, see photos