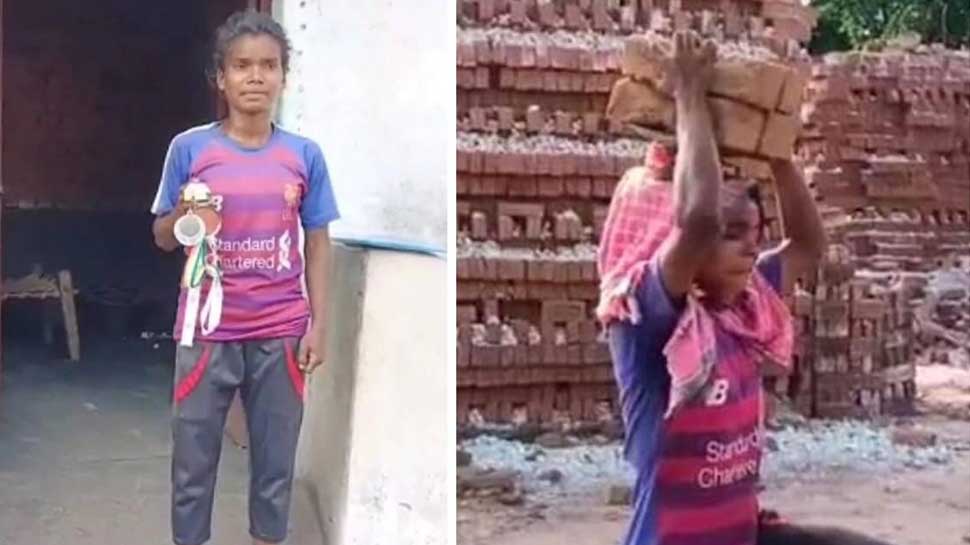 New Delhi: Despite representing the Indian team at the international level, Jharkhand (Jharkhand) woman footballer Sangeeta Soren has to work in the brick-kiln to make a living. After the news went viral in the media, the Central Sports Ministry has come into action.
Sports Minister Kiren Rijiju said that Jharkhand footballer Sangeeta Soren was soon forced to work as a daily wage laborer to support the family during the Corona virus epidemic after being part of the national team last year. Only he will provide financial help.
Also read- Chris Gayle did photoshoot with mini car, David Warner enjoyed it
Sangeeta Soren has represented the Indian team in the under-18 and under-19 tournaments in Bhutan and Thailand respectively. She was also selected for the senior women's team last year. She is working on a brick kiln in Bansmundi village of Dhanbad district.
Kiren Rijiju tweeted, 'I have been informed about footballer Sangeeta Soren, who has represented India in international tournaments and is in financial crisis in this epidemic. My office has contacted him and will be given financial help soon. It is our priority to ensure a dignified life for the players.
After Rijiju's move, the Jharkhand government also came forward to help the player. The CM office announced a quick assistance of Rs 1 lakh and said that this footballer will be employed as a coach / trainer for regular income in future. Will go.
According to the Jharkhand CM Office, cognizance was taken yesterday about Sangeeta Soren's condition. This morning, the BDO (Block Development Officer) of Baghmara met him and he was provided immediate financial assistance and ration.
Sangeeta was selected for the Indian team after an impressive performance in the age-group tournaments, but her dream of playing for the national team would have been fulfilled before the pandemic led to a lockdown in the country. The Chief Minister's Office said, 'He will soon be given a support of Rs one lakh under the State Sportsmen's Welfare Fund to continue his game.'
He told, 'Deputy Commissioner of Dhanbad will look after the work of residential football center where Sangeeta will be hired as coach / trainer so that women players can be assured of regular income and motivation. Under the leadership of CM Hemant Soren, the state government is committed to the welfare of the players.
National Women's Commission (NCW) chairperson Rekha Sharma has written a letter to the Jharkhand government in view of their struggles and has asked the state to help and support this international footballer. A copy of NCW's letter has also been sent to All India Football Federation (AIFF) President Praful Patel.
Even after the financial crisis, Sangeeta Soren has not given up her dream of football and she regularly practices in the nearby ground. Sangeeta's father is blind and his elder brother is struggling to get employment. He has previously worked in a brick kiln.