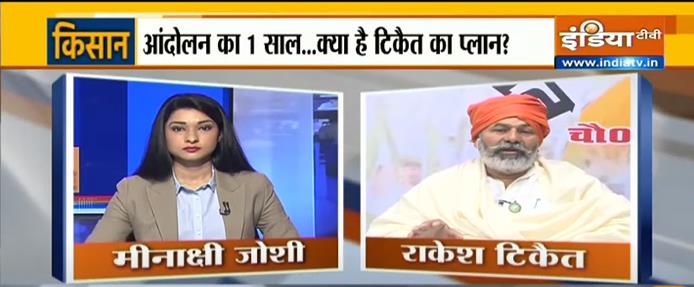 Highlight
There is a big question of MSP, a law should be made on it – Rakesh Tikait
750 farmers martyred farmers should get compensation – Rakesh Tikait
Ajay Teni guilty, he should be removed – Rakesh Tikait
New Delhi. The ongoing farmers' movement on the borders of Delhi is still going on. The protesting farmers are not ready to move from the Delhi border even after Prime Minister Narendra Modi announced the withdrawal of the Agriculture Act. India TV spoke to farmer leader Rakesh Tikait on the completion of 1 year of the farmers' movement. When asked what is the reason for the protest even after the announcement of withdrawal of agricultural law, he said, "Who will talk about MSP, who will make this guarantee law on MSP, who will be responsible for 750 farmers who were martyred. This is a lot. There are questions from us, the government will have to ask many questions now, there are some such questions which will be done later and a committee will be formed on them. MSP is a matter of immediate, it should be done now.
Rakesh Tikait said that there is a big question of MSP, a law should be made on it now. A law should be made and a committee should be formed to make it effective in 2-3 months. 750 farmers have been martyred, they should get compensation and they should get a place in Delhi to make their martyr memorial. Ajay Teni is guilty and is guilty of 120, these are some current cases, they should be solved immediately. If these three or four things are done, then the dharna can end.
He said that in later cases, if the government wants to come up with a policy, then a committee should be formed on it, there is a seed bill, there is a milk bill, a committee should be formed on such matters and the government should keep talking to us from time to time. He said that the MSP is being looted. They have to loot the grain of the farmers of the country and therefore do not want to talk about MSP. No one talks on MSP, paddy crop is being sold below MSP in many places.
Rakesh Tikait said that there is no caste movement. Don't make this movement a movement of castes, let it be a movement of farmers. I don't know if the movement will continue to benefit or harm the BJP. He said that we will become a part of the road, not the election, because from here also someone should raise our voice, from here the matter goes to the right place. At the end of the interview, when Rakesh Tikait was asked whether he wants to become the Agriculture Minister of the country? On this he said that we do not want to become Agriculture Minister but want to agitate on the roads.