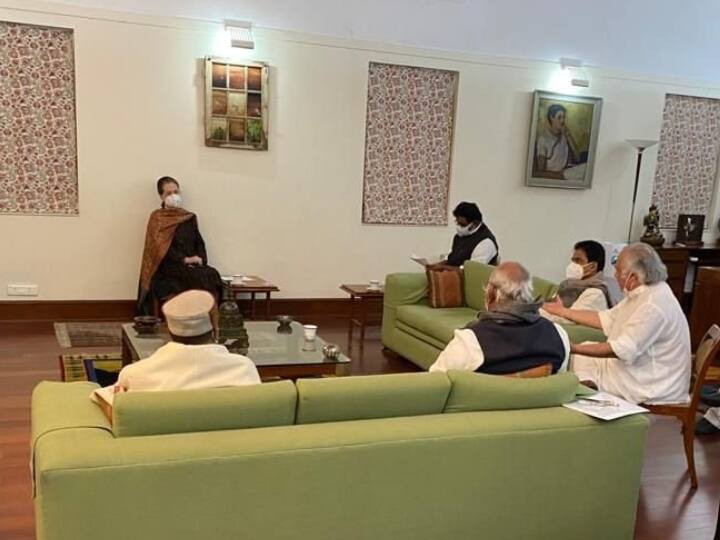 Constitution Day: Congress President Sonia Gandhi held a meeting with senior MPs of Lok Sabha and Rajya Sabha to discuss the issues to be raised in the winter session of Parliament starting from November 29 and the strategy to surround the Modi government. In the meeting, the Congress decided to boycott the Constitution Day program to be held in the Central Hall of Parliament House on Friday. Some other parties may also boycott this program.
Under the 'Azadi Ke Amrit Mahotsav', a program will be organized in the Central Hall of Parliament on 'Constitution Day' on Friday, which will be addressed by President Ram Nath Kovind, Vice President M Venkaiah Naidu and Prime Minister Narendra Modi. The Congress alleges that the Modi government is violating the constitutional rights of the people including constitutional institutions, so they will not participate in this program.
In a meeting held at Sonia Gandhi's house, the Congress decided that during the Parliament session, the party would pressurize both the houses to repeal the three agricultural laws on the very first day. Also, a new law will be demanded to guarantee the MSP. Not only this, the Congress will also demand the resignation of the Union Minister of State for Home in the case of driving a jeep on farmers in Lakhimpur Kheri in this session.
Congress will also surround the Modi government in Parliament on the prices of petrol and diesel and will also raise the demand for compensation of Rs 4 lakh to the kin of all the dead who lost their lives due to Kovid. Leader of Opposition in Rajya Sabha Mallikarjun Kharge, Leader of Congress in Lok Sabha Adhir Ranjan Chowdhury, Anand Sharma, AK Antony, Manickam Tagore, KS Suresh, Jairam Ramesh, Gaurav Gogoi and Ravneet Singh Bittu attended the meeting held at Sonia Gandhi's house. Happened.
It is worth noting that despite Mamata Banerjee hurting the Congress by including Congress leaders one after the other, the Congress has decided that the Congress will also approach the Trinamool Congress to surround the Modi government inside the Parliament. However, from the attitude of Mamta Banerjee, it does not seem that Trinamool Congress would like to appear with the Congress in Parliament this time. There is more scope for the Trinamool Congress to try to form its own opposition camp in Parliament.
Meghalaya Politics: MLA claims to have left Congress and joined TMC, Prashant Kishor persuaded to join Trinamool